Thomas Cathcart and Daniel Klein Audiobooks
Category

Other

Type

Audiobook

Language

English

Total size

672.2 MB

Uploaded By volyova
Downloads

103

Last checked

1 week ago

Date uploaded

1 week ago

Seeders

5

Leechers

0
Infohash : 335AC7C77F27ACBFBD3005750DCF7619B194DC1D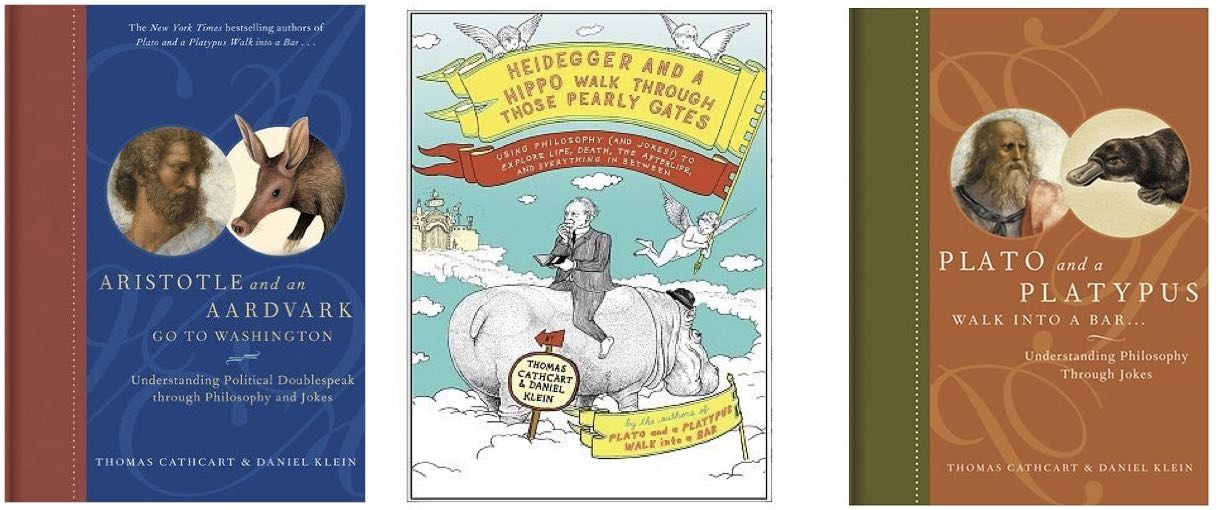 Collection of three Cathcart & Klein audiobooks:

1. Heidegger and a Hippo Walk Through Those Pearly Gates: Using Philosophy (and Jokes!) to Explore Life, Death, the Afterlife, and Everything in Between
2. Plato and a Platypus Walk Into a Bar: Understanding Philosophy Through Jokes
3. Aristotle and an Aardvark Go to Washington: Understanding Political Doublespeak Through Philosophy and Jokes


Did you know that Heidegger's notion of living in the shadow of death has its most profound articulation in a country and western song by Tim McGraw? Or what Law and Order has in common with theologian Paul Tillich's view of eternity? Such are the nuggets of wisdom found in this smart and lighthearted consideration of the philosophical dimensions of death. Cathcart and Klein (coauthors of Plato and a Platypus Walk into a Bar) take readers on a whirlwind tour of anthropological, philosophical and theological theories of why and how we avoid accepting our own mortality. The authors demonstrate how humor allows us to express our fears about death while defusing anxiety. Succinct accounts of Kierkegaard's notion of embracing angst, Schopenhauer's notion of undying will and Descartes on mind-body dualism are thus all peppered by comic asides (Leibnitz maintained that Mind and Matter don't actually get into each others knickers). This little book is an entertaining and surprisingly informative survey of the Big D and its centrality in human life.

Outrageously funny, Plato and a Platypus Walk into a Bar . . . has been a breakout bestseller ever since authors—and born vaudevillians—Thomas Cathcart and Daniel Klein did their schtick on NPR's Weekend Edition. Lively, original, and powerfully informative, Plato and a Platypus Walk Into a Bar . . . is a not-so-reverent crash course through the great philosophical thinkers and traditions, from Existentialism (What do Hegel and Bette Midler have in common?) to Logic (Sherlock Holmes never deduced anything). Philosophy 101 for those who like to take the heavy stuff lightly, this is a joy to read—and finally, it all makes sense!

In Aristotle and an Aardvark Go to Washington, our two favorite philosopher-comedians return just in time to save us from the doublespeak and flim-flam of politics in America.
Deploying jokes as well as the occasional insight from Aristotle and his peers, Cathcart and Klein explain what politicos are up to when they state: "The absence of evidence is not the evidence of absence"; "It depends on what the meaning of the word 'is' is"; or even, "We hold these truths to be self-evident...."
Files:
Thomas Cathcart and Daniel Klein Audiobooks
Aristotle and an Aardvark Go to Washington
Aristotle and an Aardvark 001.mp3 (4.1 MB)
Aristotle and an Aardvark 002.mp3 (3.4 MB)
Aristotle and an Aardvark 003.mp3 (2.5 MB)
Aristotle and an Aardvark 004.mp3 (4.1 MB)
Aristotle and an Aardvark 005.mp3 (3.2 MB)
Aristotle and an Aardvark 006.mp3 (3.6 MB)
Aristotle and an Aardvark 007.mp3 (2.0 MB)
Aristotle and an Aardvark 008.mp3 (4.6 MB)
Aristotle and an Aardvark 009.mp3 (2.7 MB)
Aristotle and an Aardvark 010.mp3 (3.0 MB)
Aristotle and an Aardvark 011.mp3 (2.9 MB)
Aristotle and an Aardvark 012.mp3 (3.0 MB)
Aristotle and an Aardvark 013.mp3 (3.1 MB)
Aristotle and an Aardvark 014.mp3 (2.8 MB)
Aristotle and an Aardvark 015.mp3 (3.2 MB)
Aristotle and an Aardvark 016.mp3 (2.0 MB)
Aristotle and an Aardvark 017.mp3 (2.9 MB)
Aristotle and an Aardvark 018.mp3 (3.2 MB)
Aristotle and an Aardvark 019.mp3 (4.1 MB)
Aristotle and an Aardvark 020.mp3 (2.5 MB)
Aristotle and an Aardvark 021.mp3 (2.7 MB)
Aristotle and an Aardvark 022.mp3 (3.0 MB)
Aristotle and an Aardvark 023.mp3 (5.0 MB)
Aristotle and an Aardvark 024.mp3 (4.4 MB)
Aristotle and an Aardvark 025.mp3 (5.2 MB)
Aristotle and an Aardvark 026.mp3 (4.7 MB)
Aristotle and an Aardvark 027.mp3 (4.3 MB)
Aristotle and an Aardvark 028.mp3 (3.6 MB)
Aristotle and an Aardvark 029.mp3 (4.8 MB)
Aristotle and an Aardvark 030.mp3 (5.1 MB)
Aristotle and an Aardvark 031.mp3 (4.1 MB)
Aristotle and an Aardvark 032.mp3 (3.7 MB)
Aristotle and an Aardvark 033.mp3 (5.1 MB)
Aristotle and an Aardvark 034.mp3 (3.3 MB)
Aristotle and an Aardvark 035.mp3 (2.8 MB)
Aristotle and an Aardvark 036.mp3 (2.7 MB)
Aristotle and an Aardvark 037.mp3 (2.9 MB)
Aristotle and an Aardvark 038.mp3 (3.9 MB)
Aristotle and an Aardvark 039.mp3 (1.8 MB)
Aristotle and an Aardvark 040.mp3 (3.5 MB)
Aristotle and an Aardvark 041.mp3 (4.0 MB)
Aristotle and an Aardvark 042.mp3 (3.6 MB)
Aristotle and an Aardvark 043.mp3 (4.0 MB)
Aristotle and an Aardvark 044.mp3 (3.4 MB)
Aristotle and an Aardvark 045.mp3 (4.9 MB)
Aristotle and an Aardvark 046.mp3 (3.8 MB)
Aristotle and an Aardvark 047.mp3 (4.8 MB)
Aristotle and an Aardvark 048.mp3 (5.1 MB)
Aristotle and an Aardvark 049.mp3 (3.0 MB)
Aristotle and an Aardvark 050.mp3 (2.5 MB)
Aristotle and an Aardvark 051.mp3 (4.4 MB)
Aristotle and an Aardvark 052.mp3 (2.8 MB)
Aristotle and an Aardvark 053.mp3 (3.2 MB)
Aristotle and an Aardvark 054.mp3 (3.7 MB)
Aristotle and an Aardvark 055.mp3 (1.9 MB)
index.txt (0.1 KB)
Heidegger and a Hippo Walk Through Those Pearly Gates.epub (3.3 MB)

Heidegger and a Hippo

0101-Heidegger and a Hippo.mp3 (3.7 MB)
0102-Heidegger and a Hippo.mp3 (3.8 MB)
0103-Heidegger and a Hippo.mp3 (5.0 MB)
0104-Heidegger and a Hippo.mp3 (4.5 MB)
0105-Heidegger and a Hippo.mp3 (4.1 MB)
0106-Heidegger and a Hippo.mp3 (4.2 MB)
0107-Heidegger and a Hippo.mp3 (3.9 MB)
0108-Heidegger and a Hippo.mp3 (4.4 MB)
0109-Heidegger and a Hippo.mp3 (4.7 MB)
0110-Heidegger and a Hippo.mp3 (5.2 MB)
0111-Heidegger and a Hippo.mp3 (3.7 MB)
0112-Heidegger and a Hippo.mp3 (2.8 MB)
0113-Heidegger and a Hippo.mp3 (3.2 MB)
0114-Heidegger and a Hippo.mp3 (4.5 MB)
0201-Heidegger and a Hippo.mp3 (3.9 MB)
0202-Heidegger and a Hippo.mp3 (3.9 MB)
0203-Heidegger and a Hippo.mp3 (3.5 MB)
0204-Heidegger and a Hippo.mp3 (3.0 MB)
0205-Heidegger and a Hippo.mp3 (4.2 MB)
0206-Heidegger and a Hippo.mp3 (4.8 MB)
0207-Heidegger and a Hippo.mp3 (4.9 MB)
0208-Heidegger and a Hippo.mp3 (5.2 MB)
0209-Heidegger and a Hippo.mp3 (4.7 MB)
0210-Heidegger and a Hippo.mp3 (5.6 MB)
0211-Heidegger and a Hippo.mp3 (4.1 MB)
0212-Heidegger and a Hippo.mp3 (4.5 MB)
0213-Heidegger and a Hippo.mp3 (4.2 MB)
0301-Heidegger and a Hippo.mp3 (3.9 MB)
0302-Heidegger and a Hippo.mp3 (3.6 MB)
0303-Heidegger and a Hippo.mp3 (3.1 MB)
0304-Heidegger and a Hippo.mp3 (3.9 MB)
0305-Heidegger and a Hippo.mp3 (4.8 MB)
0306-Heidegger and a Hippo.mp3 (3.5 MB)
0307-Heidegger and a Hippo.mp3 (3.7 MB)
0308-Heidegger and a Hippo.mp3 (3.3 MB)
0309-Heidegger and a Hippo.mp3 (4.1 MB)
0310-Heidegger and a Hippo.mp3 (3.6 MB)
0311-Heidegger and a Hippo.mp3 (3.4 MB)
0312-Heidegger and a Hippo.mp3 (4.4 MB)
0313-Heidegger and a Hippo.mp3 (3.4 MB)
0314-Heidegger and a Hippo.mp3 (2.8 MB)
0315-Heidegger and a Hippo.mp3 (3.2 MB)
0316-Heidegger and a Hippo.mp3 (3.1 MB)
0401-Heidegger and a Hippo.mp3 (4.7 MB)
0402-Heidegger and a Hippo.mp3 (3.3 MB)
0403-Heidegger and a Hippo.mp3 (4.2 MB)
0404-Heidegger and a Hippo.mp3 (3.0 MB)
0405-Heidegger and a Hippo.mp3 (4.6 MB)
0406-Heidegger and a Hippo.mp3 (4.4 MB)
0407-Heidegger and a Hippo.mp3 (5.3 MB)
0408-Heidegger and a Hippo.mp3 (4.6 MB)
0409-Heidegger and a Hippo.mp3 (5.7 MB)
0410-Heidegger and a Hippo.mp3 (4.1 MB)
0411-Heidegger and a Hippo.mp3 (5.1 MB)
0412-Heidegger and a Hippo.mp3 (5.7 MB)
0413-Heidegger and a Hippo.mp3 (3.9 MB)
0414-Heidegger and a Hippo.mp3 (4.7 MB)
0415-Heidegger and a Hippo.mp3 (3.8 MB)
0416-Heidegger and a Hippo.mp3 (3.5 MB)

Plato and a Platypus Walk into a Bar by Thomas Cathcart.epub (3.0 MB)

Plato and a Platypus Walk Into a Bar

0101-Plato and a Platypus Walk Into a Bar.mp3 (1.0 MB)
0102-Plato and a Platypus Walk Into a Bar.mp3 (2.8 MB)
0103-Plato and a Platypus Walk Into a Bar.mp3 (4.4 MB)
0104-Plato and a Platypus Walk Into a Bar.mp3 (3.5 MB)
0105-Plato and a Platypus Walk Into a Bar.mp3 (3.3 MB)
0106-Plato and a Platypus Walk Into a Bar.mp3 (3.3 MB)
0107-Plato and a Platypus Walk Into a Bar.mp3 (3.6 MB)
0108-Plato and a Platypus Walk Into a Bar.mp3 (3.5 MB)
0109-Plato and a Platypus Walk Into a Bar.mp3 (2.8 MB)
0110-Plato and a Platypus Walk Into a Bar.mp3 (4.5 MB)
0111-Plato and a Platypus Walk Into a Bar.mp3 (4.1 MB)
0112-Plato and a Platypus Walk Into a Bar.mp3 (3.8 MB)
0113-Plato and a Platypus Walk Into a Bar.mp3 (3.6 MB)
0114-Plato and a Platypus Walk Into a Bar.mp3 (3.9 MB)
0115-Plato and a Platypus Walk Into a Bar.mp3 (3.8 MB)
0116-Plato and a Platypus Walk Into a Bar.mp3 (4.8 MB)
0201-Plato and a Platypus Walk Into a Bar.mp3 (3.1 MB)
0202-Plato and a Platypus Walk Into a Bar.mp3 (3.0 MB)
0203-Plato and a Platypus Walk Into a Bar.mp3 (3.8 MB)
0204-Plato and a Platypus Walk Into a Bar.mp3 (3.5 MB)
0205-Plato and a Platypus Walk Into a Bar.mp3 (2.9 MB)
0206-Plato and a Platypus Walk Into a Bar.mp3 (3.6 MB)
0207-Plato and a Platypus Walk Into a Bar.mp3 (3.5 MB)
0208-Plato and a Platypus Walk Into a Bar.mp3 (3.2 MB)
0209-Plato and a Platypus Walk Into a Bar.mp3 (4.3 MB)
0210-Plato and a Platypus Walk Into a Bar.mp3 (3.4 MB)
0211-Plato and a Platypus Walk Into a Bar.mp3 (3.1 MB)
0212-Plato and a Platypus Walk Into a Bar.mp3 (3.5 MB)
0213-Plato and a Platypus Walk Into a Bar.mp3 (4.1 MB)
0214-Plato and a Platypus Walk Into a Bar.mp3 (3.5 MB)
0215-Plato and a Platypus Walk Into a Bar.mp3 (3.3 MB)
0216-Plato and a Platypus Walk Into a Bar.mp3 (4.5 MB)
0301-Plato and a Platypus Walk Into a Bar.mp3 (4.0 MB)
0302-Plato and a Platypus Walk Into a Bar.mp3 (4.4 MB)
0303-Plato and a Platypus Walk Into a Bar.mp3 (3.4 MB)
0304-Plato and a Platypus Walk Into a Bar.mp3 (3.8 MB)
0305-Plato and a Platypus Walk Into a Bar.mp3 (3.5 MB)
0306-Plato and a Platypus Walk Into a Bar.mp3 (3.4 MB)
0307-Plato and a Platypus Walk Into a Bar.mp3 (3.4 MB)
0308-Plato and a Platypus Walk Into a Bar.mp3 (5.1 MB)
0309-Plato and a Platypus Walk Into a Bar.mp3 (3.4 MB)
0310-Plato and a Platypus Walk Into a Bar.mp3 (3.2 MB)
0311-Plato and a Platypus Walk Into a Bar.mp3 (3.0 MB)
0312-Plato and a Platypus Walk Into a Bar.mp3 (2.6 MB)
0313-Plato and a Platypus Walk Into a Bar.mp3 (4.0 MB)
0314-Plato and a Platypus Walk Into a Bar.mp3 (3.2 MB)
0315-Plato and a Platypus Walk Into a Bar.mp3 (4.0 MB)
0316-Plato and a Platypus Walk Into a Bar.mp3 (2.6 MB)
0401-Plato and a Platypus Walk Into a Bar.mp3 (4.3 MB)
0402-Plato and a Platypus Walk Into a Bar.mp3 (4.4 MB)
0403-Plato and a Platypus Walk Into a Bar.mp3 (3.9 MB)
0404-Plato and a Platypus Walk Into a Bar.mp3 (4.1 MB)
0405-Plato and a Platypus Walk Into a Bar.mp3 (3.5 MB)
0406-Plato and a Platypus Walk Into a Bar.mp3 (3.5 MB)
0407-Plato and a Platypus Walk Into a Bar.mp3 (4.4 MB)
0408-Plato and a Platypus Walk Into a Bar.mp3 (4.6 MB)
0409-Plato and a Platypus Walk Into a Bar.mp3 (3.5 MB)
0410-Plato and a Platypus Walk Into a Bar.mp3 (66.0 KB)
0411-Plato and a Platypus Walk Into a Bar.mp3 (3.7 MB)
0412-Plato and a Platypus Walk Into a Bar.mp3 (3.5 MB)
0413-Plato and a Platypus Walk Into a Bar.mp3 (3.5 MB)
0414-Plato and a Platypus Walk Into a Bar.mp3 (3.0 MB)
0415-Plato and a Platypus Walk Into a Bar.mp3 (3.1 MB)
0416-Plato and a Platypus Walk Into a Bar.mp3 (3.8 MB)
0417-Plato and a Platypus Walk Into a Bar.mp3 (2.0 MB)
Code:
udp://tracker.coppersurfer.tk:6969

udp://tracker.opentrackr.org:1337/announce

udp://tracker.pirateparty.gr:6969/announce

udp://tracker.internetwarriors.net:1337